Universitur's mission is to create civic duty, promote inclusion and equality and teach new skills through non-formal education. We aim at fostering youth participation and raising awareness among people of all ages about key issues faced in today's world.
Universitur Association is a small Bucharest-based NGO founded in 2011. The core group organizing our activity is 3-5 people. Our activity focuses mostly in Bucharest, but we have an international scope through the Erasmus+ projects we take part in. Since 2018, thanks to the local projects we are involved in, we have created a network of contacts and collaborators from the formal and non-formal education sector on a regional level (in the South, South-East and South-West development regions of Romania).
Universitur is also closely tied to the Faculty of Geography, University of Bucharest. Our three founding members' base formation is Human Geography, and our collaboration with the Faculty and Student Association is very tight: two of our founding members teach at the Faculty, and Geography students are our priority in terms of target group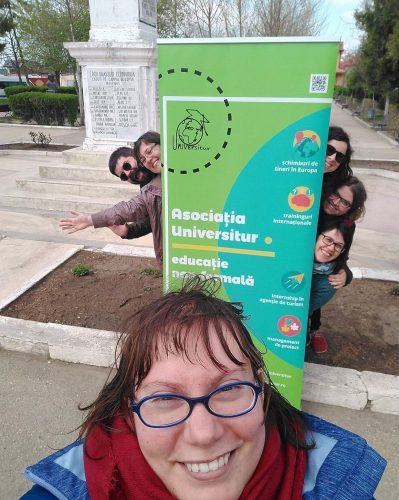 "Best association ever! I am so grateful that you gave me the opportunity to go to Orvieto! Such a wonderful experience which really changed me! I am looking forward for another one! Hope to have this chance again soon!"
Cristina M., youth exchange participant
"Best thing that ever happened to me ! If you wanna try something new, unique, have some experiences that you never had before -> JOIN !
"
Bogdan C., youth exchange participant
"Amazing association. Great people; unbelievable experiences. Orvieto students exchange was my best experience in life."
S.B., youth exchange participant